Cat Care Hospital's Monthly Specials
Discounts for your Kitties
We are offering services or items at a discount to our clients each month. Check back often to see what's mew!
March Special
10% off L-Lysine Products!
Valid for products purchased in March 2019. Good Mews!! February's 20% Dental discount was extended into March 2019, please call to schedule and appointment and reserve time for your kitty.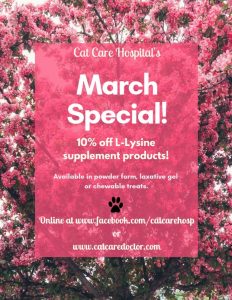 Ask about our Feline Wellness Panel
An affordable health checkup for a kitty of any age
Feline Leukemia Test (optional at an additional cost)
A physical exam plus all of the above is included in our current Feline Wellness Panel for $144.57! (Add a feline leukemia test if your kitty goes outside for an extra $28.76)
Results are available from the lab in 24-48 hours. Please ask our staff about this service today.
---