Cat Care Hospital's Monthly Specials
Discounts for your Kitties
We are offering services or items at a discount to our clients each month. Check back often to see what's mew!
May Special
10% off Pill Pockets!
Pill Pockets are small, soft, flavored treats that are mold-able to hide a small pill in and give to your pet.
Valid for products purchased in April 2019.
Available in Chicken or Salmon Flavor.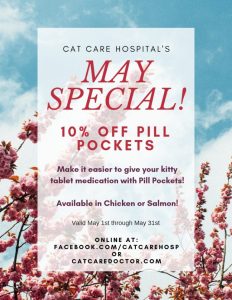 Ask about our Feline Wellness Panel
An affordable health checkup for a kitty of any age
Feline Leukemia Test (optional at an additional cost)
A physical exam plus all of the above is included in our current Feline Wellness Panel for $144.57! (Add a feline leukemia test if your kitty goes outside for an extra $28.76)
Results are available from the lab in 24-48 hours. Please ask our staff about this service today.
---