Cat Care Hospital's Monthly Specials
Discounts for your Kitties
We are offering services or items at a discount to our clients each month. Check back often to see what's new!
November Special
10% off Laser Treatments and Arthritis Supplements!
Help relieve your best friends arthritis pain with a laser treatment or helpful supplement. Valid for purchases made between Nov 1st and Nov 30th.
To be used on laser therapy (single or package visits). Supplements include Cosequin for Cats and Glycoflex Treats.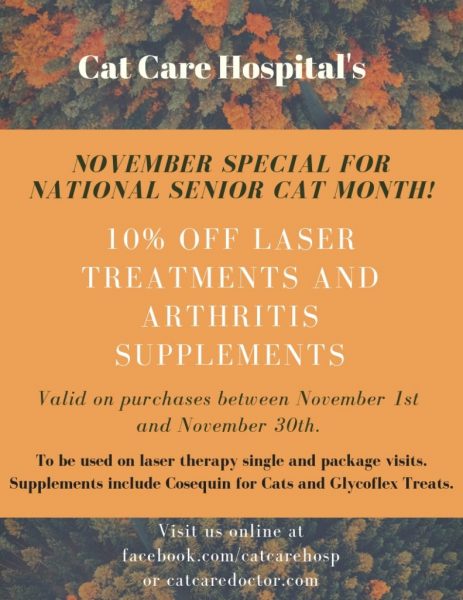 Ask about our Feline Wellness Panel
An affordable health checkup for a kitty of any age
Feline Leukemia Test (optional at an additional cost)
A physical exam plus all of the above is included in our current Feline Wellness Panel for $144.57! (Add a feline leukemia test if your kitty goes outside for an extra $28.76)
Results are available from the lab in 24-48 hours. Please ask our staff about this service today.
---
A meow from Alex…